Back to all posts
Posted on:
Every student, every day - Penny & Alex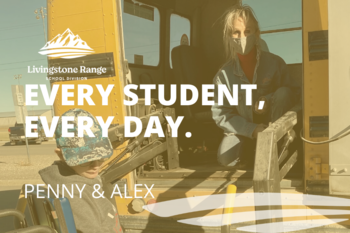 On the Granum bus route, a driver, a family, and the Transportation department work collaboratively to make a difference for "Every student, every day", including one student named Alex. Alex has a neurodegenerative disorder called AT which means he is in a wheelchair and faces many challenges. 
Alex's cousins received special permission from the Livingstone Range School Division Transportation team to switch their bus route so that they can ride with and help Alex. Their mom - Alex's auntie - drives the cousins to Alex's house each morning and picks them up each afternoon so that they can be with Alex on the bus. 
Bus driver Penny French takes great care of Alex and helps him with whatever he needs as he gets to and from school. She enjoys his sense of humor and everytime he parks his chair, Penny tells him that he's awesome. But it's not just Alex she takes care of. Penny encourages all her bus students to be happy and have fun. Kids are often singing on her bus as Penny creates not only a safe bussing experience for students, but a cheerful one. Knowing that each of the other students on her bus is just as important, on days when Alex isn't on the bus, Penny does her route in reverse order so that students who normally get off last, get off first.
Through collaboration and seeing the importance of "Every student, every day," this family, the Transportation Department, and bus driver Penny French are making a profound difference.